"If you aren't falling, you aren't trying hard enough."
Opinion piece by Lotus Occupied. Occupy. Revolt. Smash Capitalism.
How can Occupy Eugene become a successful movement when we all think of ourselves as not being leaders?
Occupy Eugene is saddened by the City Council's decision to evict protestors from Washington-Jefferson Park only 5 days before Christmas. The emergency meeting and decision to evict represents a clear betrayal of the collaborative relationship established between OE and the City. This decision will serve as further motivation to protesters here in Eugene and around
Occupy Eugene applauds the city council for recognizing that homelessness is an issue requiring more significant attention, and for allocating greater funding for Eugene's houseless population. However, Occupy Eugene did not request funds for an increased police presence at the site, and maintains that the site has been running adequately with the help of volunteer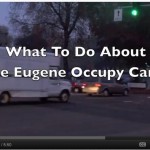 Two of the most experienced, effective and respected community leaders working with the homeless population, Chuck Gerard of the White Bird Clinic and the Rev. Dan Bryant of First Christian Church in Eugene provide interesting observations about the surprising impact of the Eugene Occupy Camp and how its unprecedented work with the homeless is helping them in their work and the entire Eugene community.
The City Council Chamber was packed out the door on Monday evening as supporters (and a few opponents) of Occupy Eugene turned out to discuss the planned vote on whether to extend OE's camping ban exemption.  Because of the limited time, and due to the large numbers of respondents, Mayor Piercy decided to limit each
The following came via Facebook: "Sue and I were out for a little run this morning, and we ran, as we usually do, down to the site. Most folks were asleep (trying to stay warm, we assumed) but we met a gentleman our age who said he was a veteran of Berkeley in the 60's,
Recently it has come to my attention that the global Occupations are being blamed for the disorderly behavior that is taking place at many of our protest sites. This is understandable, given that the power structure is hell bent on discrediting us by any means at their disposal. It is also laughable.