A Rally,Music and A Fun Singalong Action to Save our Pollinators from Common
Garden Pesticides!
Saturday, July 20th rally at noon in Free Speech Plaza, 8th & Oak. March through downtown to the Eugene Public Library. Carpool to a Garden Store to be announced at the rally!
KEYNOTES: Lisa Arkin of Beyond Toxics and Philip Smith of Oregon Sustainable Bees. Musical Parody by Scotty Perey. Wear costumes and bring kazoos for the Bee Funeral Dirge March!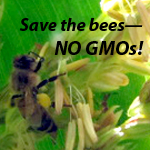 Occupy Eugene will gather for coffee and donuts at the Old Federal Building Saturday May 25th at 10:00 AM to prepare for the March Against Monsanto. Occupiers will head over to the Wayne Morse Free Speech Plaza at 10:45 AM.
The World Wide March Against Monsanto begins at 11:00 AM. There will be a rally, march and party.
Please join Occupy Eugene and affinity groups to demand a sustainable GMO free food supply.
There will be a Celebration of Art, Poetry, and Music at Tsunami Books.
2585 Willamette Street, Eugene Sunday, May 19, 2013, from 4 to 6 p.m.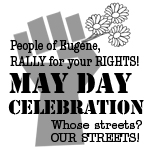 Make your voice heard in the fight for Economic and Social Justice, Workers' Rights, Immigration Reform, and Environmental Sanity.
Exercise your First Amendment Rights to speak, sing, march, and organize!
5:00pm Celebration Rally at Kesey Square, W. Broadway & Willamette
5:30pm Solidarity March from Kesey Square to the Old Federal Building
6:00pm Party & Potluck at the Old Fed–Family Friendly Speakers, Music, and Entertainment into the night!
Brought to you by: Occupy Eugene, The Civil Liberties Defense Center, and Community Alliance of Lane County.
A coalition of peace, justice and labor activists, including Occupy Eugene have organized several actions on Tax Day, Monday April 15th. The coalition's message is calling on Congress to redirect war dollars to fund human needs. Also, activists are demanding continued USPS Saturday delivery and to keep the Springfield Gateway facility open.
11:00 AM @ The downtown Post Office, 520 Willamette Street, Eugene OR. Organizers will be providing taxpayers the opportunity to decide where their tax dollars go, by inviting them to participate in a penny poll. The poll participants will be given 10 pennies to put in jars representing a 6-category breakdown of the Federal budget.
1200 Noon @ The downtown Post Office. There will be a rally with speakers and music.
1:00 PM. Procession mourning the human costs of war from the Post Office to the New Federal Bldg., with a 1:30 pm rally. Marchers will turn in cards to the Congressional offices of Senator Merkley, Wyden and Rep. DeFazio that call on them to take action to fund human needs and not war.
March 11 is the two yr. anniversary of the Fukushima Nuke Plant disaster. Lets bring attention to our continuing unsafe lust for dirty energy at the cost of our planet and our future. Occupy Eugene, the Survival Center, and CALC will be helping with a series of events throughout the week.
3/11/13 6pm @ Our Islands Conservation Center, 120 W. Broadway & Olive, Eugene OR
Opening Ceremony with music, potluck, community networking opportunities, nuclear film & discussion.
3/13/13 Noon @ EMU Ampitheater, 1228 University Ave. , UofO, Eugene OR
Nuclear Freedom Now! Rally featuring speakers, music, spoken word, and theater to encourage nuclear awareness about issues in the Northwest and abroad. March to share this information with our community at large.
3/14/13 7pm @ Harris Hall, 125 E. 8th Ave., Eugene OR
Post Ignorance Talk with Kevin D. Blanch. Learn about the ongoing disaster in Fukushima and have discussion about solutions.
3/15/13 1pm to 4pm @ Kesey Square, Willamette & Broadway, Eugene OR
Kesey Square Revival goes Nuclear! Speakers, theater and letter writing workshop; to address nuclear concerns around Hanford, Fukushima, and our need to Occupy Big Energy everywhere.
Tuesday, Nov. 27, 7pm at the Growers Market Round Table, 454 Willamette St.
OEMG has a new office at the Growers Market! To celebrate, we will be having a Grand Opening at 7pm, November 27. Come watch Occupy Eugene Media with us, share food, drink and conversation. Let's celebrate our accomplishments! As Occupiers, we have had a great year and came a long way!
SAVE THE DATE!
MARK YOUR CALENDARS!
A DAY OF ACTION AND EVENING OF CELEBRATION!!!
Join us at Occupy Eugene's birthplace, the Park Blocks on 8th & Oak! Our committees are planning various actions throughout the day. There will be an evening of music, food, speeches, skits, and a large screen showing pics and videos of Occupy Eugene's fabulous year. If you want to plug in to help plan, take a shift at the info booth, or set up your group's nonpartisan table, email OEAnniversaryCelebrationTeam@gmail.com or call 541- 525-0130.
Join Us – We're Not Leaving!
"Art inspired by or created for the Occupy Eugene movement."
Featuring paintings, sculpture, photography and mixed media.
As part of the First Friday Art Walk, the event will include music, refreshments, information and more!
Friday, Sept. 7th/5:30-8 pm at 1191 Lawrence St., Eugene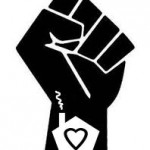 Occupy Eugene's Housing-Foreclosure Action Committee (OH-FAC) will offer a roundtable discussion about the new Oregon foreclosure law, Senate Bill 1552, at EWEB's Community Room, 500 E. 4th Avenue, at 7 p.m. on Thursday, August 30.