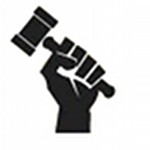 Eugene Municipal Court Judge Karen Stenard issued a ruling Thursday August 15th upholding the rights of protestors
to hold 24-hour protests at the Wayne Morse Free Speech Plaza in Eugene.
On Monday, July 15, a Eugene Municipal Court judge will hear arguments for and against dismissal of trespass charges against 20 Free Speech activists
This Saturday, April 20, during EWEB's 2013 Earth Day Celebration and beginning at 1 pm, Occupy Eugene will stage a Tug of War to demonstrate the "pull between good and bad energy."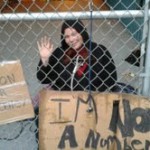 On Saturday, November 17, Occupy Eugene activist Gwendolyn Iris climbed a $70,000 chain link fence that bars access to Eugene's old City Hall near 8th and High and chained herself to it in protest of the City's lack of action for the unhoused.
Occupy Eugene's next occupation will be a little closer to home. The Occupy Housing and Foreclosures Action Committee (OH-FAC!) will clean up trash that is piling up on the steps of a vacant foreclosed home in downtown Eugene, this Friday at 3:30 p.m.
EUGENE, OR: The U.S. General Services Administration Regional Director issued a letter of denial in response to a permit application submitted by Occupy Eugene members seeking to continue their public protest at the corner of 7th and Pearl Streets in Eugene, Oregon. Occupy Eugene members have stated they will continue their protest without a permit and will risk arrest to challenge the restriction upon their First Amendment Rights.
Occupy Eugene in collaboration with the ACLU, Civil Liberties Defense Center, NAACP, Eugene Springfield Solidarity Network and CALC (the Community Alliance of Lane County), invites the public to a Walk with Trayvon on Monday, April 2, beginning at 5 p.m. at the Campbell Center, 2nd and High streets.
As freezing temperatures return once again to the Eugene area we continue to be concerned about the 4,000+ homeless people in Lane County and wonder how they will survive.
On Monday morning, March 5, Occupy Eugene is holding a press conference at the Wayne Morse Free Speech Plaza outside the Lane County Courthouse, shortly following the 10 a.m. foreclosure auction. Lauren Schickling of Walton, Oregon, will tell her story to the media, and Occupy Eugene will highlight the need for passage of proposed legislation designed to help thousands of Oregonians who are facing foreclosure actions.
Occupy Medical is on the move again. Beginning February 5th, Eugene Occupy Medical Team will offer free medical services downtown.