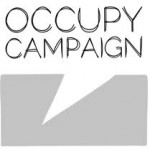 Occupy Eugene has consensed to select one or more strategic campaigns to put substantial energy into for the next six months.
Let Bank of America know what we think about their illegal foreclosures, discriminatory practices against minorities and that they are not respecting the laws that protect active duty service members. Let's stop the bank that is too corrupt to survive!
Reclaim Kesey Square as a place for street artists, entertainers, friends and activists to gather as a community.
How can Occupy Eugene become a successful movement when we all think of ourselves as not being leaders?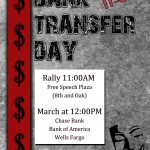 Remember, remember the 5th of November! Occupy Eugene encourages everyone to close your account in a corporate bank by November 5th and deposit your money in a local credit union or community bank. Join us this Saturday for a rally at 11:00am in the Free Speech Plaza (8th & Oak) and then for a March at 12:00pm visiting the local large corporate financial institutions. Local Credit Unions & Community Banks | Fact Sheet on Why You Should Move Your Money | Flyer
Building and Using Organizational Power
The trainers will lead a discussion about how to build movement power and create change by effectively engaging the public, and effectively influencing elected officials and city and county staff.

This Sunday, Occupy Medical Clinic Plus presents Bodywork Day! Bodywork specialists such as massage therapists and Reiki healers are offering free hands-on treatment for back pain, as well as Sundays' regular offerings:
The Occupy Eugene Foreclosure Action Committee has been asked to perform a short skit that will entertain and enlighten Michelle Shocked's audience about the foreclosure crisis.
Organizer training series, week 5
This an Occupy Foreclosure Action Committee event. We are attending to support Eric Rogers to help him stop the auction sale of his Marcola, OR property.