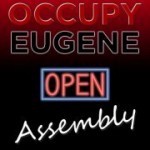 This will be an Open Assembly with our medics, some food from our kitchen and entertainment. OCCUPY CITY HALL … and sign up at 7pm to speak at 7:30 in the courtyard outside city council meeting room.
Where: City Hall Courtyard, 777 Pearl St., (8th & Pearl)
When: Monday, January 9th, 6:00pm social gathering, 7:30pm city meeting starts.
From Plaedo, "We will be having a 'celebration of democracy' with our Occupy City Hall. It will be an opportunity for people from the community to witness our Assembly process. (I know that it was the horizontal organization of direct democracy that brought me to the movement in the first place, I'm hoping this reason brings others to the movement as well.)
We will also be having free food, free medical services and our info booth to remind people that we are an asset to our community. A group of compassionate talented individuals who care about society.
So please, come on down tonight!"