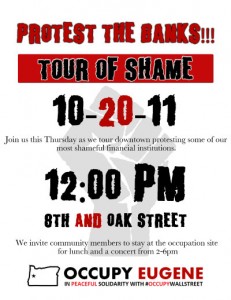 To supplement protests of Bank of America, Occupy Eugene is calling a march from the occupation site (8th and Oak) through downtown. Stops will be made outside of all the infamous banks, bringing attention to the handouts, greed, corruption and cynical political lobbying within the financial industry that has become the status quo.
Occupy Eugene invites the community down to the occupation site for lunch prior to the march, as well as a concert upon returning to the occupation site. We encourage those that cannot make the march (and others) to attend the ongoing (by SEIU Local 503, ESSN/Jobs with Justice & Eugene-IWW), weekly Bank of America protests at 3:30pm, 201 E 11th Ave.
WHEN: Thursday, October 20, 2011 12:00 PM.
WHERE: Occupation Site: 8th and Oak St., Eugene, OR
OE facebook invitation.
Bank of America Protest facebook invitation.