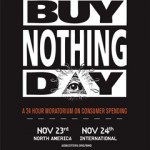 Occupy Eugene activists are staging a protest Friday 10:30 – 11:30 AM at the Eugene West 11th Walmart to bring attention to 1% media blitz targeting the 99% to buy buy buy on Black Friday. Unfettered consumerism leads to debt and time away from the family while at the same time large corporations reap record profits. Many of these big box stores, including Walmart, have abysmal employee wages and benefits.
Please join Occupy Eugene in buying nothing and challenging the Corporate Status Quo.
Bring a Sign
Here are some Ideas:
• OCCUPY CHRISTMAS
• STAND UP AND LIVE BETTER
• STEP OFF THE CONSUMER TREADMILL
• SHOP LESS LIVE MORE
• KEEP CALM AND DON'T SHOP
This is a companion action to the protest taking place simultaneously at the Green Acres Walmart , which is being held by the Eugene Solidarity Network, Pacific Green Party and United Food and Commercial Workers.