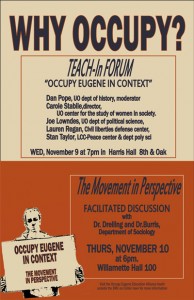 On Wednesday We the People of Eugene is sponsoring a public teach-in forum on Occupy Eugene. The discussion will include several Occupy Eugene organizers, University of Oregon (UO) professors and local community organizers. If you are interested in sharing your feedback or concerns about Occupy Eugene with organizers and other community members, this would be a great event to attend.
The following day (Thursday) two UO sociology professors, Michael Dreiling and Val Burris, will facilitate a discussion about the broader social and historical context of the occupation movement. With events moving so quickly—both here and around the world—this discussion will give people a chance to step back and take a moment to digest this explosion of movement activity. Though unprecedented in scale, there are significant connections between the occupy movement to earlier social uprisings. To the extent that we begin to appreciate these connections, we may learn some valuable lessons that can help inform the current struggle.
Both events offer a unique opportunity for those interested to engage further in the Eugene Occupation: so please spread the word!
What: Public Teach-in Forum, "Occupy Eugene in Context"
When: Wednesday, November 9th at 7pm
Where: Harris Hall inside the Lane County Public Service Building/Courthouse (8th & Oak).
What: "The Movement in Perspective," with Michael Dreiling and Val Burris
When: Thursday, November 10th at 6pm
Where: Willamette Hall, rm. 100, 1371 E. 13th Ave., University of Oregon Campus.