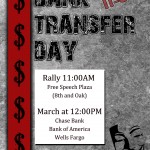 Remember, remember the 5th of November! Occupy Eugene encourages everyone to close your account in a corporate bank by November 5th and deposit your money in a local credit union or community bank.
Join us this Saturday for a rally at 11:00am in the Free Speech Plaza (8th & Oak) and then for a March at 12:00pm visiting the local large corporate financial institutions.
Local Credit Unions have already reported a surge in new accounts as a result of the anti-corporate bank movement associated with Occupy Wall Street movements around the country. Occupy Eugene and other groups such as SEIU Local 503 and ESSN have been holding regular protests at corporate banks in Eugene, such as Bank of America, Chase, US Bank, and Wells Fargo.
"People are fed up with the excessive fees these banks are charging, and their unethical practices and profiteering," said one local Occupy Eugene activist. "If you leave your money and your business in these banks, your money is telling them their practices are acceptable. They are not."
The ten largest banks in the U.S. now own 80% of banking assets. Community banks and credit unions own the remainder of these assets and generally provide small business loans, home mortgages, and other similar accounts.
Bank of America, in addition to other corporate banks is now charging its customers a $5.00 per month fee on debit cards if an account has less than $20,000 on deposit, disproportionately impacting lower-income customers. Given the million-dollar bonuses paid to big bank executives after taxpayers bailed them out in 2008, the high rate of home foreclosures resulting from predatory loan practices, the admissions that many of these banks lied to investors to increase their gigantic profits, it isn't difficult to figure out that 'we the people' should not be rewarding these unscrupulous business practices.
You can use this contact sheet to find options for Oregon credit unions or better yet, start a discussion with friends and family by asking them if they know of any local credit unions.
Local Credit Unions & Community Banks | Fact Sheet on Why You Should Move Your Money | Flyer