Archives by date
You are browsing the site archives by date.
El número 1 del Boletín de Eugene Toma las Calles en español ya está en circulación.
Tuesday April 24th 8:00 pm Cozmic Pizza
Come Learn how a corporate conspiracy destroyed the U.S. trolley system
With short "The True Cost of Oil"-Alberta Tar Sands Mining
Discussion to follow
This is a short video from the first part of Occupy The Trees. It is meant to inspire everyone to come down and join us!
Housing is a Human Right
Author and Noted Housing Rights Activist, Max Rameau will be in Eugene for several events starting Wednesday, April 18. Rameau is the author of "Take Back the Land" and director of the national movement of the same name, which specializes in "liberating" vacant government land and foreclosed homes by moving homeless families into them.
Occupy Eugene and Cascadia Forest Defenders, in Solidarity with Occupy Wall Street, have put an "Occupy the Trees" call-out to activists around the world to protest the destruction of our Earth for the week of April 22-27. Activities are planned in Eugene throughout the week. Come join us at the Park Blocks!
See a full schedule here:
https://www.google.com/calendar/embed?src=occupythetrees%40gmail.com&ctz=Asia/Kabul
Collective Visioning welcomes Benjamin Crandall talking about Kindista, the online giving network which his group is about to launch. We'll be discussing the work of Charles Eisenstein, author of Sacred Economics with others working to bring the vision of sacred economics and the gift economy home to Eugene.
Occupy The Trees will go inside to celebrate Eco-Feminism with FREE Live Music! We will have Medium Troy, Swag Sensi & The Tip! Join us at Occupy Eugene V at 1274 W. 7th Ave. (7th & Polk) on Thursday night from 7pm to 10pm.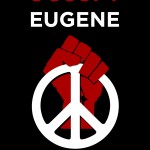 This annual community event will feature keynote speakers and workshops on various topics including a workshop/speaker track about the Occupy Movement.
The Zombie protest at Bank of America was fantastic! This video is from the event. I hope everyone has as much fun watching it as I had making it.
The GA will happen right after Max Rameau's media stops at Kesey Square and Bank of America protest. We'll begin at 5:15 this Friday and end at 6:15 so people can carpool to the LCC Peace Symposium panel on "The State of the National and International Democracy Movements". Join us!